How to Test Car Batteries with a Multimeter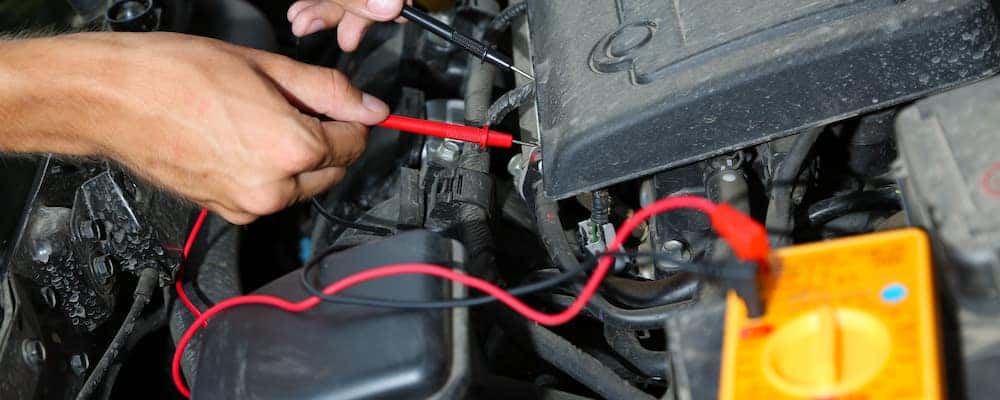 Using a multimeter to test a car battery is easy when you use this step-by-step guide from the team at CarHop. While we specialize primarily in used car sales at our many locations, we also are aware that it really pays to know what to look for when trying to make repairs at home. Find out if it's time to replace your car battery or alternator with us here!
How Do I Know if My Car Battery is Bad?
The most common symptoms that come with a bad battery include:
Battery light illuminated on the dashboard
Engine cranks slowly when starting
Vehicle requires frequent jump starts
Clicking when you turn the engine
Lights are dim
What is a Multimeter?
A multimeter measures the voltage in your car battery, letting you know how much power is currently stored in the battery.
How to Test a Car Battery with a Multimeter
Turn the headlights on for two minutes to get rid of any surface charge the battery may have.
Set the multimeter to 15-20 volts.
Turn the lights off.
Connect the multimeter to the positive and negative battery terminals.
If you don't have a voltage of around 12.6 volts, you may have a bad battery.
Now start the car, and look for a revised voltage over 10.
If your voltage drops below 5 when the car is running, it is bad and should be replaced right away.
How Long Should a Car Battery Last?
Most car batteries are warrantied to last for four years, but only around 30% of batteries made today make it to that point.
What Else Could Be Wrong with My Car Battery?
Another common problem with your car battery is corrosion at the terminal connections. You can remove the corrosion with sandpaper, but make sure to wear gloves and safety goggles!
Get Helpful Car Repair Tips Courtesy of CarHop
If your car still won't start, then it could be your car starter as well. Find out how to diagnose and replace a car starter, and count on CarHop for all your auto maintenance and repair tips. If you're still doing research, find out how to fix a check engine light, today. We're also your source for quality used cars throughout the country, so contact us for more information at 800-600-7013.
More Car Maintenance How-To's from CarHop
Gas prices can be tough, we get it! Part of owning a vehicle is having to frequently stop at the gas station to fill up your tank. During the winter standing out there can be especially dreadful. What if we told you there were ways to help you get the most out of your car's…

Your vehicle does a lot to get you around, so why not give back to it this holiday season? Here at CarHop, we care about you and your family. That's why we want to give you a few tips and tricks to keep your vehicle in its best condition this holiday season. Give back to…

The end of October means one thing: spooky season is here! Whether you're looking for some low-key fun or a trek around the neighborhood, candy is more than likely in you and your youngster's future. One alternative to dressing up and walking around neighborhood streets after dark is a relatively new concept called trunk or…