Hours
Monday - Thursday:
10am - 7pm
Friday:
10am - 6pm
Saturday:
10am - 5pm
Sunday:
Closed
CarHop of Denver – Colfax Information and Special Offer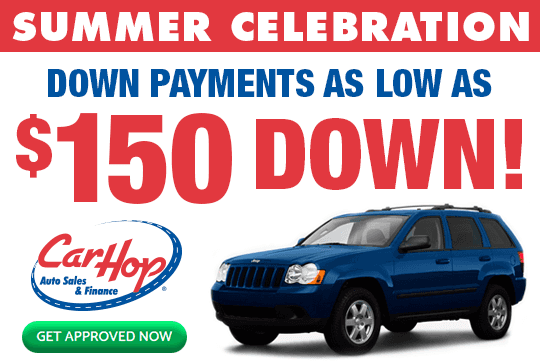 *Limited offer. Select vehicles only. $150 down on approved credit at 19.9% APR for 30 months at $41.89 per month per $1,000 financed
If you live in the Lakewood, Colorado area and have been turned down for a car loan in the past, don't worry – CarHop will work hard to get you approved and driving, even if you have bad credit! Open since 2009, our team is eager to help you like we've helped so many other Lakewood residents get a great used car!
YES! We accept trade-ins and co-buyers.
Branch Manager
(303) 202-3515
Carhop Auto Sales & Finance
CarHop Auto Sales & Finance, West Colfax Avenue, Lakewood, CO 80215, United States
Find an Auto Service Shop
What is CarHop?
Wondering why you should look at used cars for sale instead of using the following services to get around Lakewood:
Buses
Light Rail
Amtrak
Greyhound
If so, simply read on to find out how those publication transportation services fall flat and fail to offer the convenience and freedom that comes with your own set of wheels.
Buses
Unsurprisingly, even Lakewood bus services seem centered around Denver. Connections are common, and services tend to be slow. If you want to go from the middle of Lakewood to the center of Westminster, which would take around 20 minutes in a car when traffic is light, you can expect to spend around 50 minutes sitting in a bus.
Light Rail
The West Rail Line opened in 2013, and it can provide convenient access to the city. That said, stations aren't well-placed for most Lakewood residents. The line runs to the north with none branching off to serve the wider area. In fact, there are only 11 new stations on the West Rail Line. Your nearest light rail station is unlikely to be just a few minutes' walk away, so you'll need to arrange transportation to your transportation.
Amtrak
Amtrak services can take you east to New York or west to San Francisco, but they can't take you from Lakewood to Littleton. There are only nine Amtrak stations in all of Colorado, so this just isn't a fitting option for most travelers. Even if you're happy to ride an Amtrak from Denver to Grand Junction or Glenwood Springs, expect to pay a hefty fare.
Greyhound
Greyhound is like a second-class version of Amtrak. Again, you'll need to head into Denver before starting your journey, and stations aren't as numerous as they should be. You'll usually find Greyhound depots far from the center of town.
Look to CarHop for Competitive Rates on Pre-Owned Cars
At CarHop, we offer Buy Here Pay Here financing that can work for you even if credit issues have dogged you in the past. Our wide selection is backed by a Satisfaction Guarantee, and each model is covered by a great warranty. To find out more, visit us today.
Get Approved Now Lakewood, CO, Highlights See Lakewood, CO Area Inventory