Hours
Monday - Friday:
10am - 6pm
Saturday:
10am - 5pm
Sunday:
Closed
CarHop of St. Joseph Information and Special Offer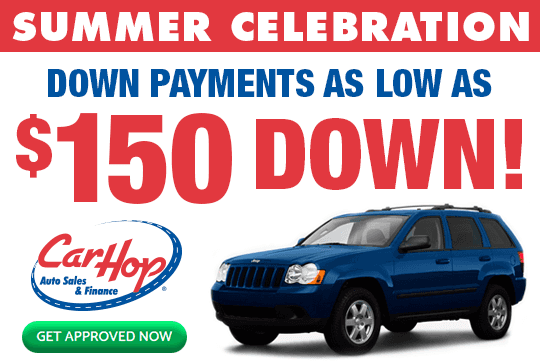 *Limited offer. Select vehicles only. $150 down on approved credit at 19.9% APR for 30 months at $41.89 per month per $1,000 financed
If you live in the St. Joseph, Missouri area and have been turned down for a car loan in the past, don't worry – CarHop will work hard to get you approved and driving, even if you have bad credit! Open since 2008, our team is eager to help you like we've helped so many other St. Joseph residents get a great used car!
YES! We accept trade-ins and co-buyers.
Tammy Embrey
Branch Manager
(816) 232-5530
Carhop Auto Sales & Finance
CarHop Auto Sales & Finance, North Belt Highway, St Joseph, MO, United States
Find an Auto Service Shop
Why Choose CarHop?
St. Joseph Transit is a division of the Public Works and Transportation Department of the City of St. Joseph and offers local transportation. "The Ride" operates eight routes Monday through Saturday. Full fair is $1.00. Travelers aged 6 to 18 can travel for $0.75, while young children travel free. While fare is relatively inexpensive, if you have to travel on Sunday, you're out of luck — that is, if you depend on the public transportation system. CarHop can help you find a used car at a price you can afford, so you don't need to rely on public transportation to get you to your destination.
Public Transportation in St. Joseph, MO
Bus Routes in St. Joseph, MO 
Number 11: St. Joseph Avenue to King Parkway, North Wal-Mart
Number 12: Lovers Lane to North K-Mart, North Wal-Mart
Number 13: Frederick Avenue to East Hills Mall, Heartland Regional Medical Center, HyVee
Number 14: Faraon/Jules to North Village, North Wal-Mart
Number 15: Missouri Western to Missouri Western State University
Number 16: Industrial Park to South Belt Hwy. US169, South Wal-Mart
Number 17: Stockyards to US59/Elizabeth Avenue, South Wal-Mart
Number 18: King Hill to Elwood, South Wal-Mart
Long-Distance Travel in St. Joseph, MO
Greyhound: There's a Greyhound bus station at 611 Angelique Street in St. Joseph, MO. It's open from 8:30 a.m. to 4:30 p.m. on Monday through Friday and from 9:00 a.m. to 1:15 p.m. on Saturday. However, tickets aren't sold at this location, so you'll have purchase online ahead of time.
What Are the Benefits of Choosing CarHop Instead?
If you live in St. Joseph, MO, you have a few options for getting to your destination via public transportation, but not many. Unfortunately, the bus routes don't accommodate passengers who need to travel on Sundays. Also, if you need to travel long distances, you have the option of using Greyhound — and that's about it. CarHop can help you find a competitively priced used car backed by a Great Warranty and Satisfaction Guarantee, as well as a vehicle history report.
Need help acquiring financing? Our Buy Here Pay Here program makes it easy for local shoppers to get the financing they need when they've been previously denied. Contact us to learn more about your next steps!