Hours
Monday - Friday:
10am - 6pm
Saturday:
10am - 5pm
Sunday:
Closed
CarHop of Sioux Falls Information and Special Offer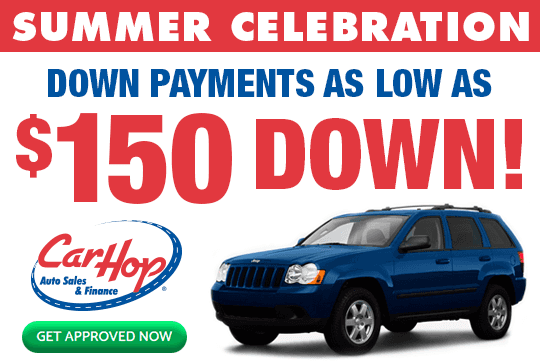 *Limited offer. Select vehicles only. $150 down on approved credit at 19.9% APR for 30 months at $41.89 per month per $1,000 financed
If you live in the Sioux Falls, South Dakota area and have been turned down for a car loan in the past, don't worry – CarHop will work hard to get you approved and driving, even if you have bad credit! Open since 2013, our team is eager to help you like we've helped so many other Sioux Falls residents get a great used car!
YES! We accept trade-ins and co-buyers.
Phil Van Egdom
Branch Manager
(605) 221-2312
Carhop Auto Sales & Finance
CarHop Auto Sales & Finance, South Minnesota Avenue, Sioux Falls, SD, United States
Find an Auto Service Shop
Dales A-1 Transmission
Repairs/Transmission
Meineke Car Care #1542
Repairs
2nd Chance Auto, Inc
Repairs
Why Choose CarHop?
Your Guide to Sioux Falls Public Transportation
Your Own Used Car vs. Public Transit