Hours
Monday - Friday:
10am - 6pm
Saturday:
10am - 5pm
Sunday:
Closed
CarHop of Pueblo Information and Special Offer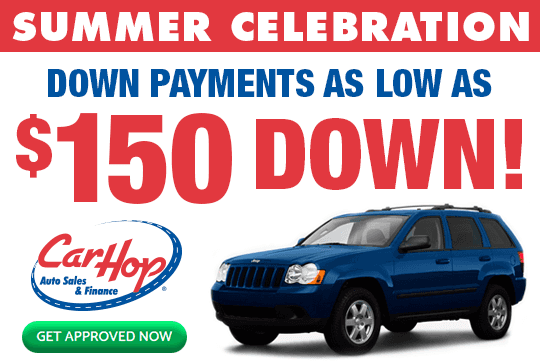 *Limited offer. Select vehicles only. $150 down on approved credit at 19.9% APR for 30 months at $41.89 per month per $1,000 financed
If you live in the Pueblo, Colorado area and have been turned down for a car loan in the past, don't worry – CarHop will work hard to get you approved and driving, even if you have bad credit! Open since 2013, our team is eager to help you like we've helped so many other Pueblo residents get a great used car!
YES! We accept trade-ins and co-buyers.
David Aggerbeck
Branch Manager
(719) 696-7615
Carhop Auto Sales & Finance
CarHop Auto Sales & Finance, North Elizabeth Street, Pueblo, CO, United States
Find an Auto Service Shop
Why Choose CarHop?
Pueblo Transit offers 12 bus routes to get residents around the city. Single-use bus fare for an adult is $1.25, while single-use bus fair for elderly or disabled travelers is $0.60. Students can purchase single-use bus tickets for $1.00. If you do a lot of back and forth traveling, you can purchase a daily pass for $3.75.
Although the cost of a daily pass may seem low, it adds up over time. If you purchase a daily pass every day of the year, you can expect to pay around $1,500 yearly — or nearly $120 a month. For a similar price, you may be able to finance a reliable used car to get you from point A to point B.
Public Transportation in Pueblo, CO
Bus Routes in Pueblo, CO
Route 1: Eastside
Route 2: Bessemer
Route 3: Irving Place
Route 4: Berkley / Beulah
Route 6: Pueblo Mall
Route 7: Highland Park
Route 8: Highway 50 West I
Route 9: University
Route 10: Belmont
Route 11: Red Creek Ride
Route 12: Lake Avenue
Long-Distance Travel in Pueblo, CO
Amtrak: There's an Amtrak station located at Transit Center, 123 Court St., in Pueblo, CO. It's about a 15-minute walk from the 1400 Blk 12th – Norwood bus station.
Greyhound: You'll find a Greyhound station at the same location as the Amtrak station. The ticketing office is open from 7:30 a.m. to 11:59 a.m. and from 12:30 p.m. to 3:30 p.m. Monday through Saturday.
So Why Shop with CarHop Instead?
When it comes to public transportation, both short- and long-distance, there are methods of getting around. However, despite being a city with over 100,000 people, Pueblo, CO doesn't have a lot of options when it comes to bus routes. The team at CarHop can help you find an affordable used car with Buy Here Pay Here financing options. Each of our vehicles is backed by a vehicle history report, plus a Great Warranty and a Satisfaction Guarantee. Even if you have less-than-perfect credit, our team can help you get the financing rates and terms that work for your budget. Contact us to learn more today!