Hours
Monday - Thursday:
10am - 7pm
Friday:
10am - 6pm
Saturday:
10am - 5pm
Sunday:
Closed
CarHop of Des Moines Information and Special Offer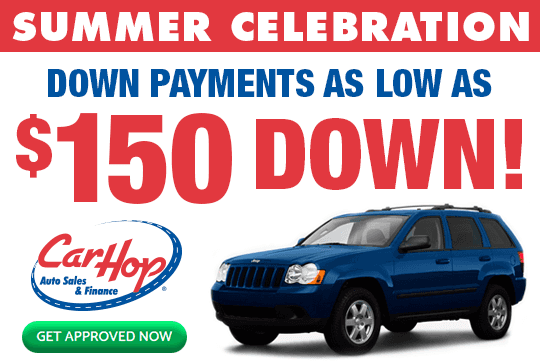 *Limited offer. Select vehicles only. $150 down on approved credit at 19.9% APR for 30 months at $41.89 per month per $1,000 financed
If have been turned down for a car loan in the past, don't worry – CarHop will work hard to get you approved, even if you have bad credit! Open since 2007, our Des Moines CarHop team has helped so many customers like you get on the road and driving.
YES! We accept trade-ins and co-buyers.
Noah Lord
Branch Manager
(515) 244-4377
Carhop Auto Sales & Finance
CarHop Auto Sales & Finance, Southeast 14th Street, Des Moines, IA, United States
Find an Auto Service Shop
Used Cars vs. Des Moines Public Transit
You might be telling yourself there's no need to look for a used car dealership near Des Moines, what with public DART transit options, Greyhound, and Amtrak — but them ore you dig into the details, the more appealing it is to check out used cars for sale.
DART Buses
The Des Moines Area Regional Transit Authority, or DART, operates local routes, flex routes, express routes, and more. It's the largest public transit agency in Iowa and does a decent job across 19-member governments, but it can be aggravating waiting for late buses and making transfers. You'll also be left high and dry during most holidays, and even late at night.
DART Rideshare
DART's RideShare program is designed around the concept of "vanpooling." Commuters with similar travel patterns can share rides in one of nearly 100 vans that accommodate anywhere from 5 to 12 passengers. Since riders will live in relatively close proximity, they can meet at a central location and do the regular commute for a low monthly fee. It's a nice, if inconvenient, option, but it only really works for regular commutes and isn't any kind of alternative to a car of your own.
Greyhound
Greyhound is a common choice for longer journeys, but it's a far from popular one. Buses tend to deposit riders far from the center of town, and travel is a far cry from comfort. Even if your bus isn't too crowded, expect numerous stops and transfers if you're going a significant distance.
Amtrak
An Amtrak train might work for longer journeys, but the closest station is in Osceola. That's an hour drive from Altoona and 45 minutes even from West Omaha. The line only goes West towards Omaha or East towards Burlington — those wanting to travel north or south are going to be caught short. Even if those restrictions don't bother you, high ticket prices probably will.
Find Used Cars Near You From CarHop
If the idea of relying on public transport has become unpleasant, turn to CarHop to help you find auto financing for used cars. Offeringgreat warranty coverage and a Satisfaction Guarantee, we're a natural choice.
Get Approved Des Moines Inventory Things to do in Des Moines