Hours
Monday - Thursday:
10am - 7pm
Friday:
10am - 6pm
Saturday:
10am - 5pm
Sunday:
Closed
CarHop of Colorado Springs Information and Special Offer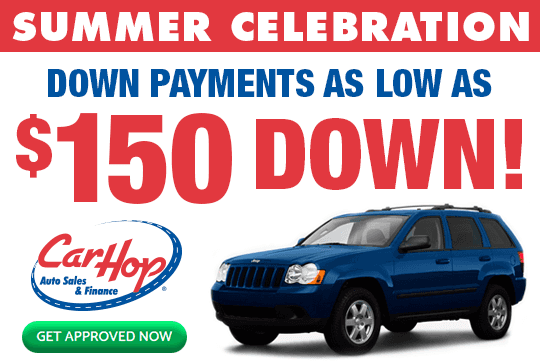 *Limited offer. Select vehicles only. $150 down on approved credit at 19.9% APR for 30 months at $41.89 per month per $1,000 financed
If you live in the Colorado Springs, Colorado area and have been turned down for a car loan in the past, don't worry – CarHop will work hard to get you approved and driving, even if you have bad credit! Our team is eager to help you like we've helped so many other Colorado Springs residents get a great used car!
YES! We accept trade-ins and co-buyers.
Cora Sander
Branch Manager
(719) 203-6356
Carhop Auto Sales & Finance
CarHop Auto Sales & Finance, South Nevada Avenue, Colorado Springs, CO, United States
Find an Auto Service Shop
RK Automotive Services
Repairs
Why Choose CarHop?
Mountain Metropolitan Transit
Mountain Metro Rides