Hours
Monday - Friday:
10am - 6pm
Saturday:
10am - 5pm
Sunday:
Closed
CarHop of Bremerton Information and Special Offers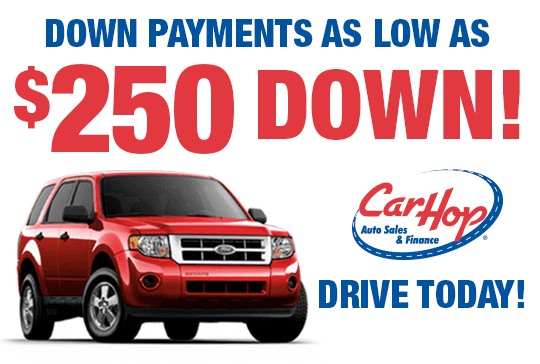 *Limited Offer. Example: 2013 CHEVROLET IMPALA, Stock # T5053, VIN:2G1WG5E30D1196823, $250 down on approved credit, 30 Monthly payments of $436.23, based on 19.9% annual percentage rate. Total cost $13,086.89. Available at Auburn location. Expires June 30, 2021. Tax and license not included.
If you live in the Bremerton, Washington area and have been turned down for a car loan in the past, don't worry – CarHop will work hard to get you approved and driving, even if you have bad credit! Open since 2011, our team is eager to help you like we've helped so many other Bremerton residents get a great used car!
YES! We accept trade-ins and co-buyers.
See What Our Customers Are Saying
Carhop Auto Sales & Finance
CarHop Auto Sales & Finance, Auto Center Way, Bremerton, WA, United States
Find an Auto Service Shop
Find Used Cars for Sale in Bremerton
Visit CarHop of Bremerton and discover why Buy Here Pay Here car lots like CarHop are the best choice when looking for a used car!
If you've been turned down for an auto loan by a bank, credit union or a traditional car dealership, CarHop is just what you've been looking for! We specialize in helping people with bad credit, no credit or even bankruptcy to get approved and driving a great used car in Bremerton. We work with bad credit and look for reasons to say YES when the others say NO! And every car, van, SUV and truck in on our used car lot in Bremerton is backed by an 18 month, 18,000 mile warranty.
And CarHop is a great alternative to time-consuming, public transportation and expensive ride-sharing services.
Take a look at our used cars and let's get you the car you deserve today!
Why Shop for a Used Vehicle at CarHop?
Here at CarHop, we offer Buy Here Pay Here financing in Bremerton, which allows us to put together a car loan that will suit your budget, even if you have bad credit or no credit. We've helped many people from Tracyton and other nearby cities get the competitive financing they need to purchase the used vehicle of their choice. As one of the premier used car dealerships in Bremerton, WA, we take pride in the quality of all the pre-owned vehicles we carry. Your independence is within reach, so what are you waiting for? If you're ready to travel according to your own schedule, stop by CarHop and get a great deal on a budget-friendly used car today!
Start Your Approval Shop Bremerton Used Inventory Why Buy at CarHop