Our Top Things to Do Near Minneapolis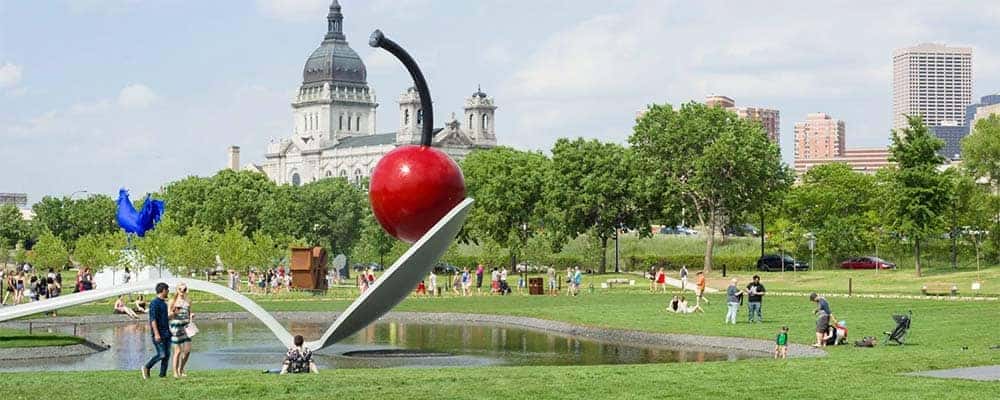 Crystal Area Inventory CarHop of Crystal Why Buy at CarHop?
You'll never want for things to do near Minneapolis. Here are just a few favorites among residents from Plymouth to St. Louis Park and Bloomington to Brooklyn Park:
Whirly Ball Twin Cities
Millennium Garden
Plymouth Playhouse
Pavek Museum of Broadcasting
Minneapolis Sculpture Garden
If you think you have a spare day, why not check out our list of what to do in the Twin Cities?
WhirlyBall Twin Cities
In case you're not familiar, WhirlyBall is played by two teams who use scoops to toss a ball through elevated backboards within an enclosed court — oh, and they're in specially designed bumper cars. Prepare for its inevitable acceptance as an Olympic Sport by heading to Whirly Ball Twin Cities. You'll also find the largest laser tag arena in Minnesota and a few escape rooms. This place is the epicenter of awesome.
Millennium Garden
Feel like something a little more peaceful than WhirlyBall? Why not try the Millennium Garden? You'll find it located on the grounds of the Plymouth Creek Center, and it's known for its tranquility. Stroll through flower gardens, trails, and walkways, or lose yourself in the labyrinth. Unfortunately, the use of WhirlyBall bumper cars is discouraged.
Plymouth Playhouse
An intimate 211-seat theatre that provides locals with a wide range of shows, the Plymouth Playhouse is always set for an evening of culture. From music and comedy to classical theatre, there should always be something to tickle your fancy. The use of WhirlyBall bumper cars is, unfortunately, frowned upon here as well.
Pavek Museum of Broadcasting
With over 12,000 square feet of antique televisions, radios, and broadcast equipment, the Pavek Museum of Broadcasting is a mecca for visitors captivated by the history of electronic communication. It's also an ideal learning environment sure to spark inspiration and nurture your own innovative side. The use of WhirlyBall bumper cars is considered taboo at the museum.
Minneapolis Sculpture Garden
With famous landmarks including the iconic Spoonbridge and Cherry, the Minneapolis Sculpture Garden features over 40 works from the Walker Art Center. Wander through beautifully manicured gardens while taking in striking works of art. Unfortunately, you might get some odd looks if you operate WhirlyBall bumper cars in the Minneapolis Sculpture Garden.
WhirlyBall Twin Cities Again
Come on. It's amazing.
Discover the Best of Minneapolis with Your Own Car
If you want to get the most from around Crystal, you should have your own car, and you can get one at CarHop of Crystal. The freedom that comes with your own set of wheels is unparalleled, so feel free to contact us today or check out our local inventory.
More About Minnesota-Area Attractions from CarHop