Hours
Monday - Friday:
10am - 6pm
Saturday:
10am - 5pm
Sunday:
Closed
CarHop of Rochester Information and Special Offer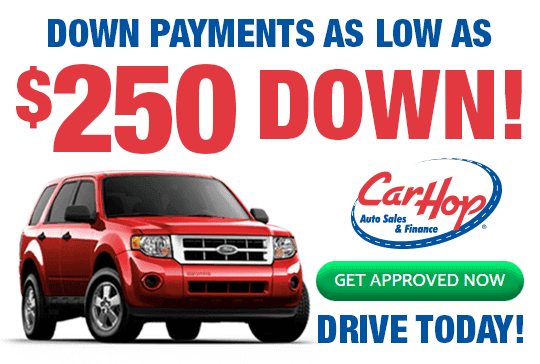 *Limited offer. Select vehicles only. $250 down on approved credit at 19.9% APR for 30 months at $41.89 per month per $1,000 financed
**See dealer for details. With approved credit. Prices reduced $1500 to $2000 versus prior to December 31, 2018. Saving represents reduction in monthly payments.
If you live in the Rochester, Minnesota area and have been turned down for a car loan in the past, don't worry – CarHop will work hard to get you approved and driving, even if you have bad credit! Open since January 2012, our team is eager to help you like we've helped so many other Rochester residents get a great used car! Stop in today, we've lowered our prices on every vehicle by $1500 to $2000!** Only at the Rochester CarHop store!
Carhop Auto Sales & Finance
CarHop Auto Sales & Finance, U.S. 52, Rochester, MN, United States
Find an Auto Service Shop
What Is CarHop?
Simply put – cars and financing for your budget! We sell used cars for low down payments and work hard to get you approved no matter how bad your credit is.
At CarHop we know that getting around the Rochester area without a car can be a challenge. That's why we offer easy affordable payment options so you can find the right used car within your budget. We're your one stop shop for affordable used cars.
Whether you're grabbing a bite at Dos Amigos, visiting Whitewater State Park, taking the kids to Quarry Hill Nature Center or meeting friends at Pappy's Place, we know having a car is important, so come into CarHop of Rochester today to find your perfect ride!
If your bad credit is getting in the way of buying a car, CarHop can help. When you step foot into one of our stores, your entire future could change for the better. We have a great selection of used cars, trucks and SUVs!
CarHop is different from your typical used car dealer. We'll work hard to get you approved, and we'll work with you to find a payment that fits your budget and lifestyle. After that, you can start working towards improving your credit by keeping up with your payments and paying off your vehicle! And with better credit, comes great life changing opportunities!
To get on the road and driving straight towards a brighter future, apply now. Click to apply online for used car financing, call (507) 322-4400. We'll be happy to meet you, and we're eager to help.
If you live in the Rochester, Minnesota area and have been turned down for a car loan before, we can help. Bad credit can get you down, so let CarHop help you up today!