Hours
Monday - Friday:
10am - 6pm
Saturday:
10am - 5pm
Sunday:
Closed
CarHop of Rochester Information and Special Offer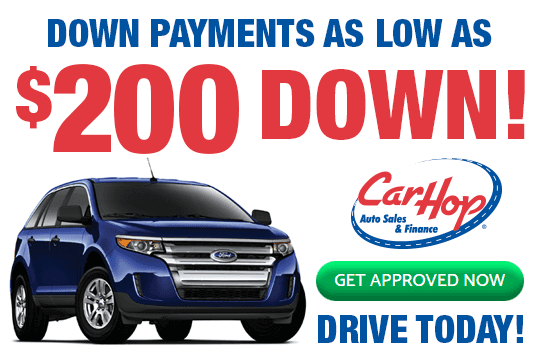 *Limited offer. Select vehicles only. $200 down on approved credit at 19.9% APR for 30 months at $41.89 per month per $1,000 financed
If you live in the Rochester, Minnesota area and have been turned down for a car loan in the past, don't worry – CarHop will work hard to get you approved and driving, even if you have bad credit! Open since January 2012, our team is eager to help you like we've helped so many other Rochester residents get a great used car! Stop in today, we've lowered our prices on every vehicle by $1500 to $2000!** Only at the Rochester CarHop store!
Allyn Dilly
Branch Manager
(507) 322-4400
Carhop Auto Sales & Finance
CarHop Auto Sales & Finance, U.S. 52, Rochester, MN, United States
Find an Auto Service Shop
Why Choose CarHop?
The Rochester Public Transit department maintains more than twenty-five bus lines, serving all four corners of our city. However, since all routes only run for certain hours of the day, and only a few routes run on weekends, owning your own car is still a smart choice for drivers who want to explore the most exciting things to do in our town! Our Rochester-area inventory includes a wide variety of used cars, trucks, and SUVs for sale, and since we offer convenient Buy Here Pay Here financing, it's easy to drive away feeling satisfied.
If you haven't spent much time in the city, you might still be wondering if you can manage to get around without your own vehicle. Check out your Rochester, MN public transit options before making a decision!
Public Transportation in Rochester, MN
Rochester City Bus Lines
On weekdays, the city of Rochester runs 18 different lines. Using the Rochester bus system, you'll be able to get just about anywhere between 65 St. NW, 50 Ave. NW, 50 Ave. SE, and 48 St. SW. This means you can easily get to the city limits, but there are pockets within Rochester where the bus routes aren't as common.
In addition to these routes, the city runs special "Shopper" routes on Tuesdays and Fridays only. An additional "Crosstown" route will take you from Winchester Drive, just north of Country Club Road W, over to Silver Creek Road on the east end of town and then up north to Stone Point Dr. NE.
On weekends and holidays, the city of Rochester only operates six different lines. These lines service wide swaths of the city, but since there are only a few of them, they can take a long time to make a complete circuit. If you want to get out and enjoy yourself on your days off, or if you work on the weekend, having your own car will prevent a lot of stress.
On weekdays, the buses run from 5:30 A.M. to 10:30 P.M., so if you work particularly early or particularly late, you'll need a car to get around.  On weekends and holidays, the buses only run from 7:00 A.M. to 7 P.M.
Fare is $2.00 for a single ride, $16.00 for a 10-ride ticket, $42.00 for a 31-day pass, and $480.00 for a year-round ticket. Youths between the ages of 6 and 18 are eligible for reduced rates, and students can procure 90, 120, and 150-day passes for less than full price.
Rochester does offer a smartly-designed Park & Ride System, which lets you drive in, park in a secure location, and enjoy the convenience of bussing while you're inside the city limits. There's one P&R location at the southern end of the city, three in downtown, and one each in the northwest and the northeast. Of course, there's no reason to use the Park & Ride System unless you have your own car.
Long-Distance Travel: Greyhound, Amtrak, and the Rochester City Lines
Greyhound: The Rochester Greyhound station is located at the corner of 6th St. SW and 2nd Ave. SW. Buses are available from 10:00 A.M. to 6:00 P.M. on weekdays and from 12:00 P.M. to 6:00 P.M. on weekends and holidays.
Amtrak: No Amtrak train station runs through Rochester, but from the city center, you can catch a bus that will take you to the nearest station, which is located in Winona. Depending on which bus you take, this trip could be as quick as one hour or as long as three. The line which is most accessible from Rochester, MN is the "Empire Builder" service, which runs from Union Station in Chicago to Seattle in the Pacific Northwest.
Rochester City Lines: Since 1959, Rochester has been at the center of a commuter charter bus service that locals depend on every day! Using the City Lines service, it's easy to travel to Bloomington in the northwest, Wabasha in the northeast, Winona in the east, Spring Valley in the south, and Dodge Center in the east. However, in order to benefit, you'll have to run on their schedule. Although they offer both A.M. and P.M. departures, those who work at odd hours will have to find other means of getting around.
Why Shop for a Used Vehicle at CarHop?
Although you'll have plenty of options when it comes to public transit in Rochester, MN, drivers in the area have plenty of reasons to shop for a vehicle at their local CarHop used car supercenter. If you want to travel on weekends or holidays, work late or early hours, or just want to appreciate the surrounding area, owning a used vehicle is so much easier than relying on public transit.
Why should you choose CarHop over one of our competitors? Since we specialize in used vehicles, you'll only find the best, most reliable models for sale on our lot. We're confident in our inventory, and for that reason, every purchase includes a vehicle history report and 18-month/18,000-mile warranty. CarHop also gives you a 7-day satisfaction guarantee to make sure you find the right vehicle for your needs.  Plus, since we offer competitive financing for drivers with poor credit or no credit, we can help you get approved, even if you've been turned down in the past. Contact CarHop of Rochester today to learn more about what we can do for you!