Hours
Monday - Friday:
10am - 6pm
Saturday - Sunday:
Closed
CarHop of Ogden Information and Special Offer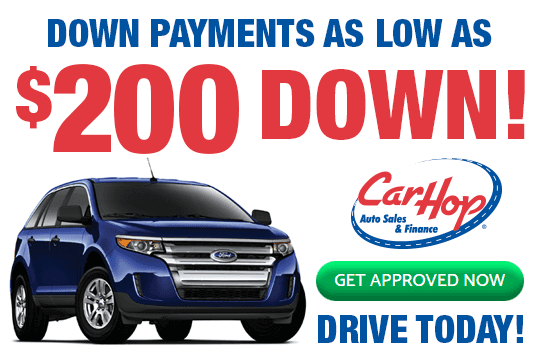 *Limited offer. Select vehicles only. $200 down on approved credit at 19.9% APR for 30 months at $41.89 per month per $1,000 financed
If you live in the Ogden, Utah area and have been turned down for a car loan in the past, don't worry – CarHop will work hard to get you approved and driving, even if you have bad credit! Open since 2013, our team is eager to help you like we've helped so many other Ogden residents get a great used car!
Victor Cedillo
Branch Manager
(801) 648-7460
Carhop Auto Sales & Finance
CarHop Auto Sales & Finance, Ogden-Clearfield, UT, Riverdale Road, South Ogden, UT, United States
Find an Auto Service Shop
Why Choose CarHop?
The Utah Transit Authority provides public transportation throughout Ogden, as well as other metropolitan areas like Salt Lake City, Provo, Tooele, and Park City. The UTA's fleet includes over 400 buses and 114 light rail vehicles. While the UTA has a robust bus system, fares can add up. For a one-way trip, fare for an adult is $2.50; roundtrip for an adult is $5.00. If you pay round-trip fare for 30 days, that adds up to $150 a month.
At CarHop, you'll find a wide range of new-to-you vehicles for sale in Ogden, UT. You don't have to commute far to shop for the right vehicle. For around the same price as monthly bus fare, you can finance a reliable vehicle with the space and features you need to get the most of our your commutes. Additionally, we offer Buy Here Pay Here financing to make life easier for our customers.
Public Transportation in Ogden, UT
Buses and Rails in Ogden, UT:
Buses: The UTA has over 120 bus routes. In Weber County, Weber State University-McKay Dee and Washington Boulevard buses are available every 15 minutes. Buses traveling other popular routes, like Ogden-Salt Lake Intercity and West Ogden, are available every 30 minutes.
FrontRunner: The FrontRunner is a commuter rail train that travels throughout the Wasatch Front, including Ogden. Using the FrontRunner, you can travel from Ogden in Weber County through Davis County, Salt Lake City, and Salt Lake County to Provo in Utah County.
TRAX & Streetcar Fares in Ogden, UT:
Adult One-Way: $2.50; Adult Roundtrip: $5.00
Senior/Reduced One-Way: $1.25; Senior/Reduced Roundtrip: $2.50
Student/Youth One-Way: $2.50; Student/Youth Roundtrip: $5.00
Long-Distance Bus Travel:
Greyhound: There's a Greyhound station located at 2393 Wall Ave in Ogden, UT — the Ogden Intermodal Bus Station. The Greyhound bus station and ticketing office are open Monday through Friday from 9 a.m. to 5 p.m.
Amtrak: There are no Amtrak stations in Ogden, UT; however, you can catch one in Salt Lake City at 300 600 W. It's a 59-minute ride by bus from Ogden. Take the 750 from Ogden Station, which arrives every 30 minutes or so.
What Are the Benefits of Shopping with CarHop?
Sure, there are ways to get around in Ogden, UT, but there's one thing you'll get from a car that you can't get from public transportation: the freedom to come and go as you please. There are so many fun things to do around Ogden, and without reliable transportation, you could be missing out. At CarHop, we help local car shoppers find the vehicles they need at prices they can afford!
Why choose CarHop over another used-car dealer? For starters, we're used car experts and can pair you with the car, SUV, or truck that suits your budget and lifestyle. Our cars come with a vehicle history report, as well as our Great Warranty and Satisfaction Guarantee. Do you have less-than-perfect credit? No worries! Our team will help you get the financing you need for the best possible rates and terms. Contact us today!